Hove campaigner loses sex-selection abortion fight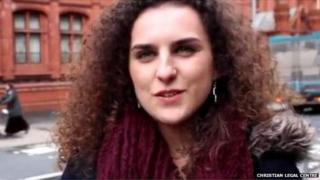 A decision that two doctors who were filmed offering gender-selective abortion should not be prosecuted has been upheld by the High Court.
Private prosecutions had been brought against the two medics by Hove pro-life campaigner Aisling Hubert but the Crown Prosecution Service (CPS) said there was insufficient evidence.
Ms Hubert, 22, asked the High Court for permission to seek a judicial review.
Lord Justice Burnett and Mr Justice Irwin refused her application.
They will give their full reasons at a later date.
'Politically motivated'
Doctors Palaniappan Rajmohan and Prabha Sivaraman, from Birmingham and South Yorkshire, were secretly filmed by the Daily Telegraph in 2012 by reporters posing as pregnant women seeking an abortion because they were expecting girls.
After the CPS said the prosecutions for conspiring "to offer" an abortion were not in the public interest, the director of public prosecutions (DPP) decided it was more appropriate for the doctors to be dealt with through professional disciplinary hearings.
Dr Rajmohan was struck off in November for three months, while the Medical Practitioners Tribunal Service dropped its investigation into Dr Sivaraman.
Ms Hubert, whose action is backed by the Christian Legal Centre, had accused the DPP of making "politically motivated" rather than "legally based" decisions.
Last month, MPs agreed the law on sex-selective abortion needed clarifying after hearing of "widespread confusion" over the legal position.