Coach company serving Oxfordshire schools to be liquidated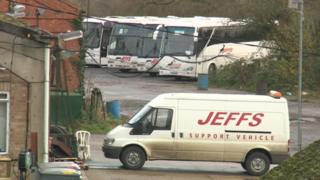 A coach company that serves Oxfordshire schools is insolvent and is due to be liquidated, it has announced.
Jeffs Travel, which has been trading since 1958, said in a statement it had collapsed because of "the loss of contracts and a large bad debt".
The company, which is based in Brackley in Northamptonshire, said this would mean the loss of 15 full-time jobs and 10 casual posts.
Parents have voiced concerns about how their children will get to school.
The schools affected include Headington Girls School, Rye St Antony School, Magdalen College School and Oxford High School.
Caroline Wild said her daughter was now having to take the train to school in the mornings from Banbury to Oxford.
She said: "It's made a difficult transport situation even worse, the uncertainty as to what's going to happen, whether anyone is going to step into the breach."
Jeffs Travel owner Colin Matthews said it was with "deep regret" that the company had been forced to fold. A creditors' meeting will be held on 16 December.