British man bitten by fur seal on South Georgia rescued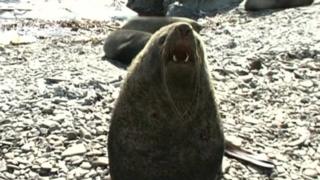 A man was given "urgent medical attention" by British forces after he was bitten by a fur seal on an island in the southern Atlantic Ocean.
The British patient was visiting South Georgia with a Russian cruise ship the MV Akademic Sergei Vavilov, when he sustained a major arm injury.
Royal Navy and Royal Air Force crews, based 800 nautical miles away in the Falkland Islands, went to his aid.
He was later airlifted to hospital in Stanley, the Falklands' capital.
'Maximum range'
The man was bitten while at Salisbury Plain Beach on South Georgia.
As he needed urgent medical attention Portsmouth-based HMS Clyde, an RAF Hercules and RAF Search and Rescue helicopter were launched with a military doctor onboard.
Cmdr Darren Bone said: "We were able to deliver him to hospital in Stanley over 24 hours earlier than would have been the case had he remained on the ship.
"This successful rescue operation, conducted at maximum range from the Falkland Islands, demonstrates very clearly the value and capability of British naval and air forces working together."
The operation comes a week after British Forces worked with other agencies to rescue all 347 passengers and crew from a stricken French cruise ship Le Boreal.