South Central Ambulance Service faces £1m fine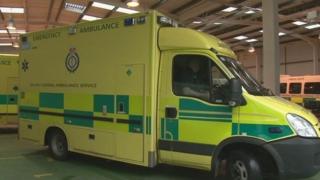 South Central Ambulance Service (SCAS) could face a £1m fine over its poor performance, a trust boss has said.
The service has been given a penalty notice for not meeting the eight minute response target for life-threatening emergencies.
Sue Byrne, SCAS chief operating officer, said: "We work hard not to be in this situation. It isn't acceptable when we don't reach patients in time."
It is now working to an action plan to improve to avoid the fine being levied.
Ms Byrne said: "The amount is down to the commissioners, but it could be £1m. It will have to be paid if we don't improve.
"It's a very challenging environment."
Low staffing issues have also been highlighted as a concern to be addressed by the service.
Its ambulances would need to reach at least 75% of life-threatening emergency calls in eight minutes by the end of the year for the penalty to be lifted.
The service said it was currently reaching 72% within the time target.
SCAS serves Berkshire, Buckinghamshire, Hampshire and Oxfordshire.