Gravesend Roma trafficking gang receive further jail terms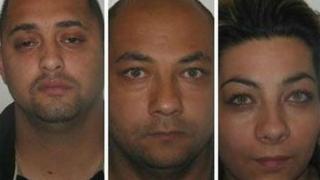 Three members of the same family who ran a trafficking ring in Kent which saw poor Roma woman brought to the UK from Slovakia have been sentenced.
Tibor Suchy, 30, his wife Viktoria Sanova, 29, and brother-in-law Rene Sana, 32, preyed on "desperate and highly vulnerable" women from their own community, the Old Bailey heard.
The women were promised a better life, but were sold into sham marriages.
The trio, of Gravesend, were jailed in 2013 for other trafficking offences.
Suchy was jailed for 10 years, Sana for three years and Sanova for 16 months.
Brothers sentenced
The second trial followed new trafficking charges which were brought after other victims were found.
On Tuesday, Judge Michael Topolski QC sentenced Suchy to a further 34 months to run concurrently. He was told he would be deported on release.
Sana was given 24 months, and Sanova 12 months, but the judge said both sentences had been covered by their time on remand.
Sana also faces deportation.
Three further gang members were also sentenced for their part in running the trafficking ring from the Slovakian suburb of Lunik IX.
Brothers Roman and Jozef Ziga were each sentenced to six and a half years in jail, and Igor Boros was jailed for three and a half years.
Judge Topolski described the trafficking ring as a "well organised and well established" operation which had "deliberately targeted extremely poor Roma women".