New Zealand helicopter crash: Post-mortem tests on four people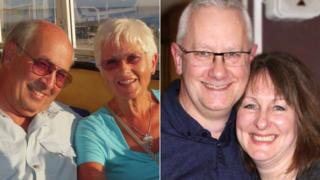 Post-mortem examinations have been carried out on three women and a man who died in a helicopter crash on a glacier in New Zealand.
Recovery of three more victims killed in the crash, on Fox Glacier on Saturday, is affected by bad weather.
Four Britons died in the crash, two of whose bodies have yet to be removed from the glacier.
Post-mortem tests were carried out on the bodies of Helen Charlton, of Romsey and Katherine Walker, of Cambridge.
Also among the dead are Sovannmony Leang, 27, and Josephine Gibson, 29, both from New South Wales, and pilot Mitchell Gameren, 28, of Queenstown, New Zealand.
No further details have been issued on results of the examinations of the bodies of Mrs Charlton, 70, and Ms Walker, 50.
Mrs Charlton's husband Nigel, 66, and Andrew Virco, 49, Ms Walker's partner also died.
The aircraft crashed in a crevasse on the glacier, on New Zealand's South Island.
The glacier is on the island's remote west coast, which is a popular tourist area.
New Zealand Police confirmed the recovery of the four bodies and that their families have been contacted.
"Positive identification of those individuals is still progressing but might take several days," a spokesman said.
"Aoraki-Mt Cook Alpine Rescue, South Westland Alpine Cliff Rescue Team and police victim identification teams are ready to deploy to the glacier as soon as the weather allows."
The cause of the crash is under investigation.