West Midlands firefighters protest over job cuts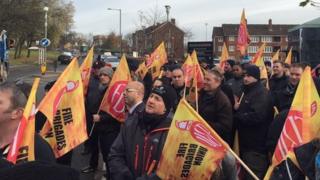 Up to 150 firefighters have protested over proposed job cuts and contract changes, the Fire Brigades Union said.
Steve Price Hunt, FBU regional secretary, said they were angry over the proposed loss of 300 posts and the "prospect of no proper shift pattern".
West Midlands Fire Service said the cuts were needed to make about £14m of government savings.
The rally took place outside a meeting of West Midlands Fire and Rescue Authority at its headquarters.
Mr Price Hunt said FBU members would be balloted on whether to refuse to do overtime.
Updates on this story and others on Birmingham and Black Country
He said under the service's proposals, overtime pay would be reduced to "basic pay" rates and shift pattern changes would also affect leave.
"We are talking about firefighters not being able to take leave in the summer or, in some cases, taking no holiday for nine months of the year and suffering reductions in pay," he said.
Protesting firefighters were joined by fire control operators who the union said "faced the prospect of redundancy".
The fire service said it was trialling staffing arrangements to "protect the level of service" provided in the face of funding cuts.
"Improved staffing arrangements will help us meet a significant proportion of this, alongside our continuing recruitment freeze," a spokesman said.
"We are making it possible for staff to volunteer for additional shifts for a trial period. The proposals originated from staff suggestions, as a way to maintain the service we currently provide at the same time as making significant budget savings."
He said while the FBU had rejected the staffing trial plan, the Fire Officers' Union and a number of staff who were not union members had agreed it.