Winston Churchill's War Rooms desk clock up for sale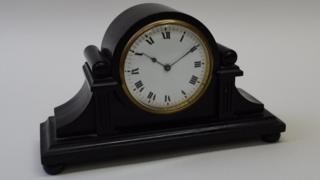 A desk clock that belonged to Winston Churchill and took pride of place in the Cabinet War Rooms during World War Two is to be sold at auction.
The timepiece was given to George Rance, clerk and custodian of the complex beneath Whitehall in London, at the end of the war in 1945.
It is expected to fetch up to £600 when it goes under the hammer in Chichester, West Sussex, later.
Peter Parker, of Stride and Son, said the item was "a little bit of history".
"It's a pretty modest, early 20th Century ebonised desk clock.
"If it weren't for the significance of the war bunker provenance it might only be [worth] £40 or so," he added.
'Fantastic provenance'
"Our vendor is the granddaughter of George Rance, who was tasked with setting up the war rooms in the late 1930s. He effectively ran the war rooms on a daily basis.
"It's got a fantastic provenance, which is key to these things really. It's also stamped PM."
"This [clock] would have, I imagine, sat on my grandfather's desk," said Sir Nicolas Soames, Conservative MP grandson of Sir Winston Churchill.
"It is a very real piece of history if the provenance is correct, which I'm quite sure it is."
Cabinet War Rooms
The war rooms were built in secrecy during the late 1930s under the stewardship of George Rance.
They became fully operational on 27 August 1939, a week before Britain declared war on Germany.
On 11 September 1940 Churchill made his first speech from the complex, warning Britons about the risk of invasion.
He conducted meetings with the heads of the Army, Navy and RAF in the bunker throughout the war.
A direct hit from anything larger than a 500lb (227kg) bomb would have destroyed the complex.
The bunker was used for the last time on 16 August 1945, a day after VJ Day.
The Cabinet War Rooms, now referred to as the Churchill War Rooms, opened to the public in 1984.
Source: Imperial War Museum