Hull council mulls West Yorkshire Combined Authority move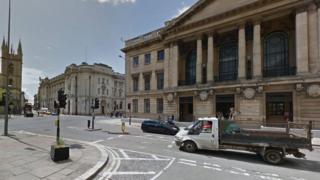 The city of Hull has spoken to West Yorkshire council chiefs with a view to joining the area's combined authority.
The West Yorkshire Combined Authority, a group of local councils, took charge of transport and economic development in April 2014.
It is made up of councils of Leeds, Bradford, Calderdale, Kirklees, Wakefield and the City of York.
But now Hull, dozens of miles to the east, wants to be a part of the so-called larger 'Leeds City Region'.
The city council confirmed the story in the Yorkshire Post detailing the council's efforts to join the authority as an associate member meaning it would not have automatic voting rights on all the issues.
York is part of the West Yorkshire group because of the "economic inter-dependence" between the city and its near neighbouring area, an authority paper discloses.
Analysis: Tim Iredale, BBC Political Editor, Yorkshire and Lincolnshire
Council leaders fear Hull could become Yorkshire's "forgotten city" in the government's devolution process.
The leader of Hull City Council, Stephen Brady, was one of the earliest supporters of a 'Greater Yorkshire' bid - which would bring together much of the White Rose County.
Politically, it could make sense for the Labour-dominated authorities in West Yorkshire to form an alliance with Labour-run Hull.
That would leave Conservative-run East Riding of Yorkshire Council free to join its rural neighbours in North Yorkshire.
But opponents say the arrangement could lead to Yorkshire becoming fragmented and lacking the clout to compete with other areas, where political leaders have been more willing to put aside old political and geographical rivalries.
Combined authorities - which do not replace any existing ones - can be set up when two or more local councils want to work more closely to support economic growth in areas such as skills, transport and investment.
The authority will also be able to negotiate future funding from Whitehall to promote economic growth.
Last April, the authority said: "Resources and decision-making powers devolved from government to the region will include the West Yorkshire and York Transport Fund - a programme of strategic investments in transport infrastructure worth up to £1.6bn over 15 years."
Wakefield Council leader Peter Box, who chairs the combined authority, said at that time: "There have been traditional rivalries not just between districts, but within districts.
"The time has come now to acknowledge we are an economic entity of our own and, that being the case, let's make sure that we are smarter in using what limited resources are available."
The authority confirmed Hull City Council had made an initial approach to them, but did not comment further.