Devon and Cornwall Police review military bases security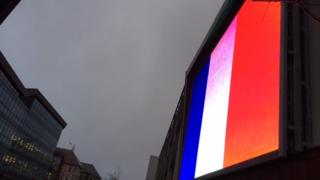 Police will be visiting Devon and Cornwall's military bases this week to review security following the Paris terrorist attacks.
Devon and Cornwall Police's major incident control centre, or Gold Command, has been meeting twice a day since Saturday.
Senior officers said there is no intelligence to suggest a threat locally.
But they have asked the public to be vigilant for any suspicious activities.
Updates on this story and more from Devon and Cornwall.
Mosques in Devon and Cornwall will also be visited by police officers, in an attempt to ensure there is no backlash against the Muslim community.
'Low key'
Extra police patrols will be mounted around sensitive sites, like RNAS Culdrose at Helston, Devonport Naval Base in Plymouth, Royal Marines Base Chivenor near Barnstaple, and the Commando training centre in Lympstone.
Police operations "will be low key", said Chief Constable of Devon and Cornwall Police, Shaun Sawyer.
"This is all about community reassurance, not any evidence of an extra threat," he said.
France is marking three days of mourning for the 129 people killed in the attacks.