Northumbrian Water workers rally over pension row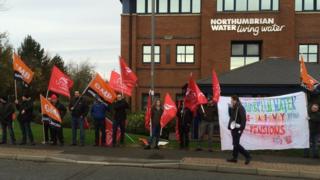 Water workers in the north east of England have taken part in a protest rally over changes to their pensions.
Members of the GMB and Unite unions have accused Northumbrian Water of cutting workers' pensions, but increasing dividends for shareholders.
They have been taking part in industrial action short of a strike since October.
Northumbrian Water has defended its pension scheme as one of the best in the water industry.
Dozens of protestors attended a rally outside the company's headquarters in Durham.
The company, which was taken over by a Hong Kong-based investment consortium in 2011, supplies 2.7 million people across the North East.