South and West Yorkshire Fire services may merge to save money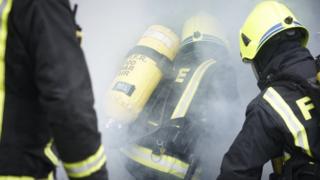 Fire services in South and West Yorkshire could be merged in a bid to save money.
Plans to combine the forces, revealed by the Yorkshire Post, have been put forward as one of a range of options.
South Yorkshire Fire Authority say the proposal may be "the best option" but its West Yorkshire counterpart say the plans have not gone beyond an "initial scoping" stage.
The two forces have cut about £20m from their combined budgets since 2011.
Jim Andrews, chair of the South Yorkshire Fire Authority, said: "We are looking at all options and this is one of them.
"It is a financially advantageous option for South Yorkshire but there are other options that could be financially advantageous."
Among the other options on the table are collaboration between the services or putting the fire service under the control of the Police and Crime Commissioner (PCC).
Mr Andrews added: "I think a merger would possibly be the best option as it keeps the fire brand rather than puts it in to the PCC."
'Not in best interests'
Judith Hughes, chair of West Yorkshire Fire Authority, said it was "considering all opportunities".
"The context of the ongoing devolution debate and the need to further improve collaboration between emergency services means that numerous options are being considered, many or all of which will not proceed any further," she said.
"At this stage, in respect of closer collaboration with South Yorkshire Fire & Rescue Service, we are no further advanced than initial scoping about what could be."
However, Dave Williams from the Fire Brigades Union in West Yorkshire say they do not believe a merger would be in the best interests of people living in the two regions and said he was disappointed talks had taken place without union input.
The two forces already operate a joint control room system which allows calls to re-routed at peak times.