Ex-City Link directors cleared in Coventry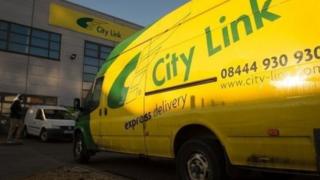 Three ex-directors of collapsed parcel firm City Link have been cleared of failing to inform the government they were planning to make staff redundant.
The Coventry-based firm employed 2,700 people across the UK - the vast majority lost their jobs on New Year's Eve.
David Smith, 50, Robert Peto, 48 and Thomas Wright, 32, had denied failing to give 45 days' notice of dismissals.
A magistrate dismissed the charge after hearing of a "firm" £17m rescue offer.
Mr Smith, of Dickens Heath, near Solihull, Mr Peto, of Priors Marston, Warwickshire and Mr Wright, from north-west London, were found not guilty at Coventry Magistrates' Court.
Read updates on this story and more from Coventry.
Deputy District Judge David Goodman said: "A director cannot be expected to put a crystal ball on his or her desk at a time of huge shock and turmoil, and predict the likely consequences of an action, unless a consequence is either the only foreseeable one or is the only consequence that can be reasonably envisaged.
"The defendants each gave evidence that they genuinely believed a sale in administration was not only possible but quite probable."
A statement released on behalf of the men by law firm White & Case LLP, said its clients were "all pleased" at the verdict.
But it said "their overwhelming feelings are sadness and regret that, despite their very best efforts in dreadful circumstances, they could not save City Link from insolvency and that so many people lost their jobs at the end of last year".