170,000 extra homes built across England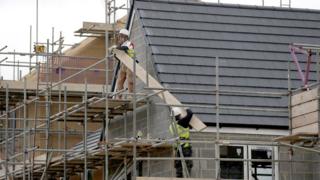 More than 170,000 homes were added to England's housing stock in the last financial year, figures show.
The total was 25% up on the previous year, but remains 26% below the peak of 223,530 recorded in 2007-08, just before building slumped as a result of the financial crash.
Communities Secretary Greg Clark said the figures showed reforms had worked.
Labour said they were evidence of "the Tories' five years of failure on house-building".
The figures showed Cornwall had the largest increase last year with 2,700 additional homes, followed by 2,120 in Wiltshire and 2,050 in Newham.
Leeds, Birmingham, Sheffield and Cheshire West and Chester also saw increases of more than 1,500.
'Back from the brink'
Housing minister Brandon Lewis said: "We've brought the house building industry back from the brink, giving them the tools they need to get on with the job and build the homes hard-working people need."
Shadow housing minister John Healey responded: "These figures are further evidence of the Tories' five years of failure on house-building.
"We can't solve the crisis of rising housing costs without more homes to rent and buy, but these figures show we've gone backwards. The number of additional homes has fallen by a quarter under the Tories over the last five years."