Appeal after quilts of dead husband's shirts stolen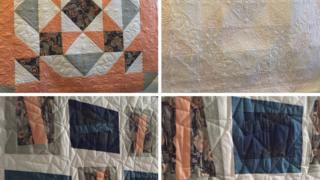 Quilts being sent to a widow made from her husband's shirts are feared stolen after going missing from a courier.
The covers were picked up by a courier from quilter Joe Bennison in Winnersh on Tuesday 3 November but failed to arrive at the widow's house in Kent.
Ms Bennison said MyHermes had told her the quilts had been among a number of parcels stolen from a van in Reading.
"I fear that they will be dumped somewhere and nobody will think to hand them in," she said.
"The quilts were for his family to remember him by. They can not be replaced and are of no real use to anyone else.
"They are made from his favourite shirts and are therefore irreplaceable."
MyHermes said it was looking in to the matter.
Joe Bennison, 46, was temporarily holding the quilts to add decorative stitching for the widow's friend, Janet Bevan, before sending them back to her.
Mrs Bevan had been making the items to help her friend and her sons deal with the sudden loss of her husband.
Thames Valley Police confirmed the theft of two quilts from a delivery van in Reading was reported to them on 12 November.
Officers said they were believed to have been taken from an unknown location between 3 and 10 November.