Steelworkers protest outside parliament over job losses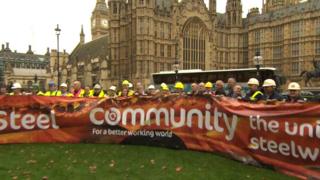 Steelworkers facing redundancy have held a protest outside the Houses of Parliament.
The rally follows a Tata Steel announcement last week of nearly 1,200 job losses at its plants in Scunthorpe and Lanarkshire in Scotland.
Dozens of UK steelworkers travelled to London for the protest, with many from Scunthorpe where 900 jobs are to go.
The steel industry has blamed cheap Chinese imports and high energy costs for the collapse in prices.
Workers travelled from Yorkshire, Lincolnshire, Teesside, Northamptonshire, West Midlands and South Wales for the protest.
Scunthorpe's Labour MP Nick Dakin said the turnout in in Parliament Square was "fantastic".
"It does demonstrate how strongly people feel about what's happening to themselves as steelworkers, to their families and the communities they live in," he said.
'Raising issues'
One of the protesting Scunthorpe steelworkers, Tony Gosling, who is also a Labour councillor in North Lincolnshire, said the workers wanted the government to address the problem of high energy costs.
"We're here to raise issues and hopefully force the government's hand to give us a level playing field," he said.
Speaking during prime minister's questions in the House of Commons, David Cameron said steel producers would receive some rebate of their energy bills to compensate them for the extra costs of climate change policies. once approval was given by the EU.
Mr Cameron said: "I can confirm that payment will be made immediately and that payment will be made throughout this parliament."
Business Secretary Sajid Javid is expected to raise concerns over unfair steel imports with EU Trade Commissioner Cecilia Malmstrom in a meeting on Wednesday.