Call for funding to end Operation Stack 'absolute misery'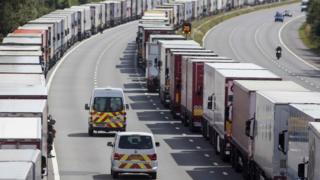 It was a summer of misery - for hauliers and Kent residents who found themselves at the mercy of Operation Stack.
In unprecedented scenes, thousands of lorries were forced to park on the M20 during cross-Channel disruption, causing congestion across the county. The problems were caused by striking French ferry workers and migrant activity at the Port of Calais and Channel Tunnel.
Today the leader of Kent County Council, Paul Carter, left MPs in no doubt about its impact.
He told MPs on the Commons Transport Committee: "It's absolute misery - not just in that corridor but because everybody is ducking and diving trying to find a route and a cut through to get to where they need to be.
"It's literally from the whole of Maidstone down to the coastal strip all the way across to east Kent."
'Bad options'
Operation Stack was implemented for a total of 32 days, with lorry drivers waiting for up to 36 hours at its peak - costing the Kent economy at least £45m this year.
At the height of the chaos the government said the former airport, Manston, would in future become an emergency lorry park.
But that suggestion has not gone down well with Peter Callum from the Road Haulage Association, who said: "Manston itself as a facility is okay, given we weren't starting from a very high base."
That was echoed by Natalie Chapman from the Freight Transport Association who added: "I suppose it's the best of a bad bunch of options because the alternative is we completely close the M20 and that simply cannot happen again."
Assistant Chief Constable Jo Shiner also branded it "the best really of a number of bad options".
'Permanent solution needed'
So, Manston seems damned by faint praise. If not there, what is the solution?
Well, Paul Carter says there needs to be a permanent lorry park and is calling for Chancellor George Osborne to set aside the funding in next month's Autumn Statement. He says it could be built for around £150m.
While there may still be disagreements over cost and location - all parties agree that a permanent solution is needed and soon.
There's no doubt those people attending the committee today made it clear to the MPs just how serious the situation has been with Operation Stack this year.
We heard that possible solutions to Operation Stack could be published within a few weeks but Highways England said it expected the earliest time any off-road capacity for dealing with the situation is likely to be ready would be autumn 2016.
And of course that also depends on the money being found - the message from the leader of Kent County Council is this is a national problem and it's up to the government to foot the bill.