Thailand deaths of Hannah Witheridge and David Miller: Verdict expected on Christmas Eve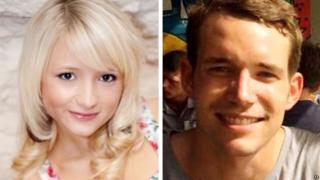 A Thai judge in the trial of two migrant workers accused of killing two British tourists will announce the verdict on Christmas Eve, according to reports.
Hannah Witheridge, 23, from Hemsby, Norfolk, and David Miller, 24, from Jersey, were found dead on the island of Koh Tao in September last year.
Two Burmese migrants Zaw Lin and Wai Phyo deny involvement in the murders.
The chief defence lawyer told Reuters: "The verdict will be on 24 December."
Miss Witheridge and Mr Miller were found bludgeoned to death on the southern island of Koh Tao. A post-mortem examination showed Miss Witheridge had been raped.
The killings raised questions about the safety of tourists in Thailand, the competence of its police force and its treatment of migrant workers.
Both defendants, aged 22, initially confessed to the killings but later retracted these statements, saying they had been tortured.
'False confessions'
Prosecutors say DNA evidence links the two men to the killings, but the trial heard that DNA from a garden hoe allegedly used to kill two British tourists on a Thai island does not match samples taken from two men accused of the killings
Lawyers for the accused have made police incompetence and mishandling of evidence central to their defence.
Defence lawyer Nakhon Chompuchat told Reuters: "There is a chance we can still win."
He said inconsistencies in the police investigation, including not sealing off the crime scene properly, could work in favour of the defence.
The trial, which started in July, ended this weekend with the men alleging they were tortured and sexually assaulted to make false confessions.
Andy Hall, a Thailand-based activist for the rights of migrant workers who is helping with the defence, said there needs to be an urgent investigation into sexual assault allegations.
The defence and prosecution have been given until 26 October to deliver their written closing statements.