David Cameron's speech: 'Housing revolution' to be led by Tunbridge Wells MP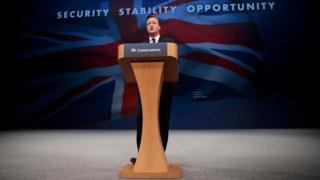 It was a big moment for delegates at the Conservative conference in Manchester - the first time a Conservative Prime Minister had addressed a majority Conservative government for more than 18 years.
Members of the media had to stand as every seat was taken.
When David Cameron took to the stage he was relaxed - clearly enjoying the moment. He began with jokes. He said on the morning after the election he lay down, "and as I shut my eyes, Ed Balls had gone. And when I woke up and I switched on the radio, Nigel Farage had gone too".
"There was a brief moment when I thought it was all a dream."
He added: "I thought I had died and gone to heaven."
But he quickly got down to the the business of setting out Conservative values - on home ownership, social mobility and security.
On housing, David Cameron promised more families will own their own home and pledged to change planning laws to help build 200,000 so-called "starter homes" in Britain. Figures suggest that between 2011 and 2014, 35,000 fewer houses overall were built than needed in the South East.
The PM told Tory activists he wanted to transform "generation rent" into "generation buy". He said the "housing revolution" will be led by the Tunbridge Wells MP and Communities Secretary Greg Clark.
He also spoke about immigration, but in a more positive tone than the Home Secretary chose for her speech to conference.
Mr Cameron spoke about how he had been affected by the photo of the small boy from Syria washed up on the beach in Turkey.
He paid tribute to migrants who have come here to work hard and named his business secretary Sajid Javid - the son of a bus driver and also the Wealden MP Nusrat Ghani whose parents had come here from a small village in Kashmir.
On education he also promised more free schools and academies, and said he did not want schools to be controlled by local authorities.
He made no mention of grammar schools - the decision on whether to allow a new annex to be built in Sevenoaks is expected imminently.
The speech went down very well in the hall with several standing ovations - one when the Prime Minister praised the armed forces and another when he criticised Jeremy Corbyn as a security threat to the country.
It is fair to say Conservative supporters were pleased with what they heard here - many feel David Cameron is now a leader unshackled by the constraints of coalition and can pursue traditional Tory values.
Others were not so positive. While the construction industry have welcomed the announcement on house building they say the policy will not solve the problem as there is a desperate skills shortage.
Labour responded by saying the Tories were failing working people and said for all the talk of making life better for people, David Cameron was doing the opposite.
The Prime Minister spoke about the fact he only has a few years left to serve - he announced before the election he would not stand again in 2020 - but today he said he was a man in a hurry.
He wants to introduce social reform - reforming prisons, schools and, hopefully, lives. This was a speech about securing not just Britain's future - but his legacy.