York and Lincoln nightclubs owner fined for safety breaches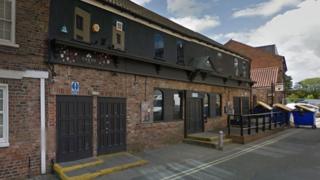 A nightclub owner who put the lives of staff and revellers at risk by breaching fire safety requirements at two venues has been fined £76,000.
Aaron Mellor, 45, from Manchester, was sentenced after failing to comply with regulations at his Tokyo nightclubs in Lincoln and York.
At one stage the York venue had no working fire alarm while in Lincoln fire exits were blocked.
Mellor's company, Tokyo Industries Ltd, was fined £30,000 for similar offences.
He was sentenced on Monday after being found guilty of 11 offences following a trial at Lincoln Crown Court and pleading guilty to one offence at York Crown Court.
Tokyo Industries admitted three further offences.
Mellor and Tokyo Industries were also ordered to pay more than £67,000 towards prosecution costs.
Paul Mead, of Lincolnshire Fire and Rescue, said: "Fire exits [at the Lincoln venue] were blocked by chairs and tables and bags of rubbish and the emergency exit signs pointed in the wrong direction.
"One of the fire escape doors at the club had to be kicked and subsequently broken by a member of staff in order to open it.
"If a fire had occurred some people would not have reasonably been able to escape due to the fire exits not being available."
The court heard the club in York was visited by fire officers several times between 2013 and 2014.
North Yorkshire Fire and Rescue Service said that at various times the emergency lighting system, fire alarm and fire detection system were not working and the fire risk assessment for the property was not adequate.