Waterfall death: Cold water shock killed Low Force swimmer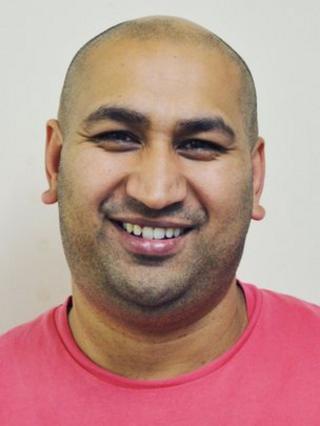 A man who jumped into the River Tees on a family outing but did not resurface, died from the shock of the cold water, an inquest has heard.
Wadud Abdul, from Newcastle, had been celebrating his 36th birthday in May at Low Force, near Middleton-in-Teesdale.
Coroner Andrew Tweddle said there had been no "daftness or silliness going on" and that his death had been "random and unpredictable".
He concluded Mr Abdul's death was accidental.
A teacher at Hadrian School, Benwell, Mr Abdul went for a swim near the waterfall, but did not resurface.
The search for him involved the police and force helicopter, fire crews, mountain rescue teams and searchers in boats and canoes.
His body was eventually recovered the next day from the bottom of the pool below the waterfall.
Pathologist Dr Sree Mussunoor told the inquest in Crook, County Durham, that sudden immersion in cold water can cause a spasm which stops the heart from beating.
He said death would be within "a couple of minutes".
Mr Abdul had been with his wife, Cheryl, and their two children.
His widow said: "We would still have him if we had known the dangers of cold water."