Second phase of East West Rail scheme announced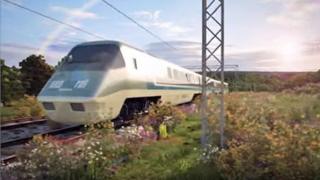 Network Rail has announced its plans for the second phase of the East-West Rail scheme.
It wants the public's views on proposals to upgrade the railway between Bicester and Bedford, and Milton Keynes and Princes Risborough.
It is part of the project to link Oxford to Bedford and Milton Keynes, via Aylesbury and Princes Risborough, to London Marylebone.
Phase one from Oxford to Marylebone is complete and will commence in October.
The work involves upgrading and reconstructing underused and mothballed sections of the railway linking the Great Western, Chiltern, West Coast and Midland main lines north of London.
Plans in phase two include:
•A new station at Winslow
•Two new platforms at Bletchley
•Construction of 18 new over bridges
•Construction of 22 new footbridges/subways
•Changes to 97 railway crossings
A first round of public exhibitions will take place from 21 September to 1 October.
Further public consultations will be carried out in spring 2016, before a final scheme is submitted to the secretary of state in summer 2016.
Andy Milne from Network Rail, said the exhibitions would give "local communities the opportunity to influence how the project will be developed".