Former NHS worker still selling 'miracle cure' bleach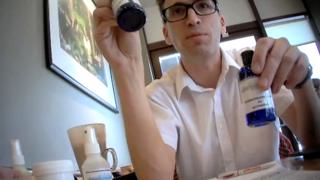 A former NHS worker is still selling bleach as a "miracle" cure for cancer after being exposed by the BBC.
Leonardo Edwards, of Southampton, was filmed by Inside Out South selling Master Mineral Solution (MMS), made from chlorine dioxide.
He was also investigated by BBC London in June after selling the substance as an autism cure.
The Food Standards Agency has re-issued a long-standing warning over the substance.
Mr Edwards, who used to work at Southampton General Hospital, said the warnings were "false and misleading".
He worked as a pharmacy assistant at the hospital from 2002 to 2012.
He is part of Genesis II, the Church of Health and Healing, which describes itself as a "non-religious" group which works to improve the health of mankind.
'Highly toxic'
Inside Out South filmed Mr Edwards selling the substance to an actress.
He said: "It can cure malaria in four hours and cure HIV.
"I will never knowingly take a pharmaceutical drug again.
"I am helping people all over the world with this."
Presenter Jon Cuthill visited the home of the church in Houston, Texas, USA, and after two days and $412 (£267) was given a certificate to prove he was a "reverend" and was able to sell MMS.
The group was told the solution cured cancer and leukaemia.
The Food Standards Agency in the UK has re-issued a long-standing warning about MMS which said it can cause "severe nausea, vomiting and diarrhoea" and could potentially lead to death.
It is made from sodium chlorite and citric acid or hydrochloric acid, which makes chlorine dioxide.
Prof Laurence Harwood of the University of Reading said: "It generates chlorine dioxide and that is a bleach.
"It is a highly toxic chemical. The thought that people would eat this horrifies me. It's just criminal."
Hampshire Constabulary has said there are no active proceedings against Mr Edwards.
Inside Out is on BBC 1 at 19:30 BST.