Art piece remembers Shropshire's WW1 soldiers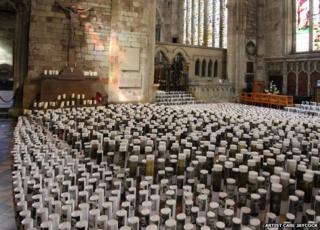 Some 4,663 people from Shropshire who were killed during World War One have been honoured in a piece of artwork.
Remembrance Field features thousands of images of men and women which are formed in tubes to "parody shell cases", Arts Council England said.
The work at St Mary the Virgin Church, Shrewsbury, includes pictures of soldiers from the county who died.
Artist Carl Jaycock said he was moved by people's stories and "wanted to bring their names out of the archives".
The art installation also features portraits of female munitions workers from Hereford factories who made shells during the war.
'Trench art'
"They were known as the Canary Girls due to their skin going a yellow colour due to handling the chemicals when making the shells," said a spokesman for Arts Council England, which supported the project with National Lottery funding.
Mr Jaycock, who lives near Telford, did much of his research through War Illustrated, a magazine published during the period.
He said many of the people featured in the publication had been awarded for their bravery.
The artist also worked with Shropshire Regimental Museum and Herefordshire Archive Services.
His latest work also includes original World War One shells that were decorated by soldiers, which has become known as "trench art".
Mr Jaycock said: "Soldiers used to scratch on them and create beautiful things - trees and nature. So they were negating war by creating beauty."
The exhibition runs until 11 September.