'Hundreds' of migrants now target Eurotunnel every night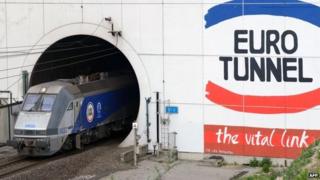 Incursions by "hundreds" of migrants into the Eurotunnel terminal in France have become a nightly occurrence, the cross-Channel rail operator has said.
Passenger and freight services were again hit by delays on Friday as the firm tried to run services on one of the busiest days for holiday travel.
Eurotunnel said police were being called each night to remove migrants from its Coquelles base.
The operator briefly suspended services just before midnight on Friday.
Services have now resumed, subject to delays, it tweeted.
The company's director of public affairs, John Keefe, said hundreds of people were being removed from around the terminal perimeter, the railway or platforms each night.
He said people were so desperate to reach the UK they were prepared to throw themselves at trains travelling at 90mph.
He said: "We're dealing with people-traffickers working together to create diversions and distract security. It's well-organised, co-ordinated activity."
On Thursday, the body of a teenager was found on a train at the Eurotunnel terminal in Kent.
The latest overnight migrant activity coincided with a peak-time holiday weekend as the rail operator dealt with heavy passenger and freight demand.
Operation Stack has remained in place in Kent to deal with cross-Channel disruption and police have warned it could continue until Sunday.
'From Eden to Hell'
Kent's police and crime commissioner, Ann Barnes, has called for national funding to deal with Stack, which is when French-bound lorries park on a closed section of the M20 to await crossings.
Lorries have now been parked on the motorway for a total of 19 days over the past three months.
With it currently closed to all but freight between junctions eight and 11, Mrs Barnes said the bill should not be picked up by Kent taxpayers as the situation had become a "chronic national problem". She said Kent had gone from being "Eden to Hell".
And the Freight Transport Association (FTA) told BBC Radio 5 Live that Stack - brought in repeatedly over the summer because of strikes by French ferry workers and migrant disruption to Eurotunnel services - had cost the haulage industry more than £14m in the past three months.
FTA chief executive James Hookham said: "This is the country's GDP and export standing still in these horrendous queues caused by the situation in Calais.
"It is simply not acceptable that industrial action in France can cause such chaos."
He called for Calais to be made a "strike-free zone".
On Friday, talks were held between MPs, Kent County Council, Kent Police, cross-Channel operators and hauliers on how to deal with the disruption.
Ashford MP Damian Green said a contraflow would be introduced on the northbound M20 within days so Kent's traffic could keep moving even while Operation Stack was in place.
He said it was "not a complete solution" and the national government still had a significant role to play in solving the long-term problems, but he hoped it would "diminish the misery" being caused in Kent.
"It makes life completely miserable... people are telling me they're taking two and a half, three hours, to do a 30 minute journey. Just the normal things of everyday life have been made impossible."
Mr Green also said the French government should be taking more action to deal with industrial action in Calais and that protecting the Eurotunnel terminal at Coquelles was "not an impossible policing task".
He said: "I know our government is urging very hard the French government to meet its responsibilities there."
Eurotunnel has said the cross-Channel problem is an international concern and a "far bigger problem than one small transport company operating across a 30-mile stretch of water".
Mr Keefe said migrants were roaming Calais at will, with the single goal of trying to reach the UK.
Numbers were growing by 50 to 100 each day, he added.
He raised concerns that thousands of people had arrived in the French town over the winter and numbers would continue at the same rate over the summer.
The increase in numbers came as no surprise following migrant activity in the Mediterranean, he added.
He said: "The only voices are the operators out of Calais - us and the ferries. But this is a European problem. Two governments have been taken by surprise and have not yet reacted."
Eurotunnel has handed out leaflets in migrant camps and put up posters in nine languages around its French base, warning migrants about fast trains, high voltage electricity and moving vehicles.
It is thought there are now about 5,000 migrants in Calais.