Body of teenager found on Eurotunnel train in Kent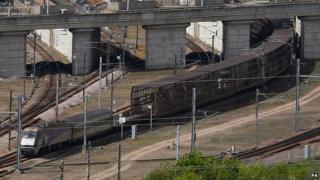 The body of a teenager has been found on a Eurotunnel train at the Channel Tunnel terminal in Folkestone.
Kent Police said the male body was discovered on the loading bay of the vehicle shuttle service at 04:13 BST.
Earlier, Eurotunnel blamed delays to journeys through the tunnel on "intensive migrant activity" and "very high levels of traffic" leaving the UK.
Operation Stack, in which lorries queue on the M20, has been extended to junctions eight to 11 coastbound.
Police said it was likely to be in place until at least Sunday, with a busy weekend expected for the Channel ports and strong winds and heavy rain forecast for Friday afternoon and Saturday.
'Strength of feeling'
The government has said a review of Operation Stack will be received in late August or early September.
In a letter to Ashford MP Damian Green, the Under Secretary of State at the Department for Transport, Andrew Jones MP, said he understood the strength of feeling in Kent about the problem.
Mr Green said there was lack of agreement over where lorries should be parked instead of the M20.
"We need a series of lorry parks around Kent so the problem can be defused," he said.
The French government has unveiled proposals to save ferry jobs in Calais and end a stand-off in the port in which 500 ferry workers have blocked services.
The workers are protesting after MyFerryLink, previously owned by Eurotunnel, was sold to a Danish company, DFDS.