Retired police officers lose age discrimination claim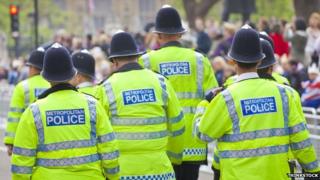 Hundreds of police officers who were forced to retire have lost their claim for age discrimination at a tribunal.
Many of those at forces across England and Wales with more than 30 years service have been forced to step down in recent years.
The employment appeals tribunal upheld an earlier appeal by police forces.
Officers in Nottinghamshire, West Midlands, Devon and Cornwall, north Wales and south Wales could now decide to take the case to the High Court.
Lawyer Rebecca Townsend, representing some of the officers, said they were now studying the details of the judgement "to assess the merits of an appeal".
Nigel Rabbitts, of the Devon and Cornwall branch of the Police Federation, said it was a "blow" to those involved.
The region's police and crime commissioner, Tony Hogg, said he was "delighted" by the decision.
The officers had won an earlier judgement, prompting fears that police forces across England and Wales could be forced to pay millions of pounds in compensation.
'No winners'
A total of 1,086 compensation claims by former senior police officers, who were forcibly retired, were stayed - meaning no payouts were made - until Wednesday's employment appeal tribunal judgement.
They were among 1,335 officers across England and Wales made to go after 30 years' service under the rule, used by 15 forces to make efficiency savings since 2010.
The A19 regulation, part of the Police Pensions Act, affects those below chief officer rank who have have more than 30 years' service, who could be forced to retire "on grounds of efficiency of the force".
Invoking the rule saved the forces more than £66m in wages, the BBC found last year.
West Midlands Police said a total of 499 officers in its area had filed claims for indirect age discrimination after leaving the force 2010-2014 under A19.
Deputy Chief Constable Dave Thompson said there were "no winners" following Mr Justice Langstaff's ruling.
"We knew it would impact on people who'd dedicated themselves to serving the people of the West Midlands for many years, but we felt there was no viable alternative to meet the enormous financial challenges we faced then, and continue to face today," he said.
Analysis
Danny Shaw, BBC home affairs correspondent
This ruling is a massive blow for hundreds of officers - constables, sergeants, inspectors, superintendents - whose police careers were prematurely ended.
Many saw the case as a route towards compensation; some believed it made no sense to get rid of experienced officers who wanted to stay; and others saw it as a matter of principle that would help colleagues avoid the axe in the future.
For the five police forces involved - and others who will have been watching closely - the judgment is a relief.
They had relied on the A19 programme to help make savings: Home Office funding to the police has been cut by 25% in real terms since 2010.
If the police forces had lost the appeal not only would they face compensation payouts of millions of pounds, but they'd have to find other ways of making savings in the years to come.