Britain's most wanted criminals hunted in Spain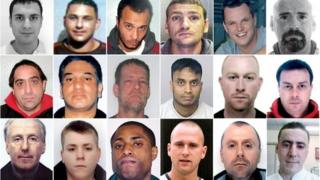 British criminals hiding in Spain are being targeted by police who are displaying their photos on screens in popular expat areas.
A 13ft (4m) digital screen is touring areas such as Benidorm, Malaga and Puerto Banus as part of Operation Captura.
So far, 68 out of 86 people have been apprehended.
The images include people wanted in connection with crimes such as murder and drug trafficking.
The initiative is being led by the National Crime Agency (NCA) and Crimestoppers, but features suspects wanted by forces across Britain.
They include Allan James Foster, 43, from South Shields, wanted in connection with the murder of David "Noddy" Rice in a car park in May 2006, as well as for drugs and diamond offences.
Christopher Guest More, 36, who has links with Spain and Malta, is suspected of murdering a man at a remote farmhouse in Tabley, Cheshire, in June 2003.
They are among 18 men whose faces will feature on a screen attached to the back of a van touring some of Spain's biggest resorts.
"This is something that we have never done before but we believe that broadcasting these fugitives' faces right in their backyards will not only encourage the public to speak up but show these individuals that there really is nowhere to hide," said Roger Critchell, director of operations for Crimestoppers.
"There will be no avoiding the faces on this screen - they'll be broadcast in all the popular expat areas.
"I would urge anyone who recognises any of those faces to contact Crimestoppers anonymously."
Others wanted under Operation Captura:
Michael Roden, 25, originally from Redditch in Worcestershire, conspiracy to import cannabis
Fatah Benlaredj, 38, originally from Algeria, rape of a seven-year-old girl in May 2007
Paul Buchanan, 29, originally from New York, attempted rape in Worcestershire
John Barton, 59, of Mansfield, Nottinghamshire, conspiracy to import heroin. He was sentenced in his absence to 20 years in 2003
Mohammed Jahangir Alam, 32, originally from Bangladesh, but has lived in Bradford and Cheltenham, for rape and sexual assault. He was convicted in March 2010 and sentenced to 14 years in his absence
Daniel Bowes, 45, from London, conspiracy to supply cocaine
Carlo Dawson, 52, from Croydon, indecent assault and making indecent photographs of a child
Anthony Dennis, 47, originally from Hackney, but with links to Essex, conspiracy to commit drug trafficking offences outside the UK, and conspiracy to import class A drugs
Daniel Dugic, 33, originally from Serbia, for conspiracy to import cocaine
Simon Dutton, 38, from Bolton, conspiracy to supply cocaine
Scott Hughes, 34, from Halewood in Merseyside, conspiracy to supply class A drugs and conspiracy to launder money
Kevin Thomas Parle, 35, murder of 16-year-old Liam Kelly in Liverpool in 2004
David McDermott, 41, from Ormskirk, but with links to Liverpool, conspiracy to supply cocaine and conspiracy to blackmail
Robert Mortby, 27, from London, attempted murder
Shahsi Dhar Sahnan, 57, originally from India, conspiracy to import heroin