George Galloway 'told me to do chores', former aide claims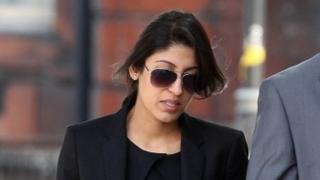 George Galloway asked his former parliamentary aide to buy him underwear and arrange his wedding party, she says
Aisha Ali-Khan reported the former Bradford West MP to the Independent Parliamentary Standards Authority (Ipsa) earlier this year.
She told the BBC's Victoria Derbyshire programme she agreed to the tasks as she was "simply overwhelmed" and he was "not a man you can say no to easily".
He said there was "not a word of truth in these malicious allegations".
Ipsa confirmed it had received a complaint against Mr Galloway, who is bidding to become the next London mayor, which it handed to the police in May.
The Metropolitan Police said the matter was being assessed - it is making inquiries but there is no active investigation at present.
'Very forceful'
Ms Ali-Khan told the programme about the tasks he asked her to fulfil during her six-month stint as his taxpayer-funded assistant.
Her lawyers claim they amounted to a breach of the requirement to use funds for parliamentary purposes.
"On one occasion when we were in Bradford, he told me that he had travelled to Bradford and was without any underwear. He said you must go to TK Maxx for me and he said, 'I would like you to buy me underwear,'" she said.
"With the fact that I was working for him, I was doing so much. It was another thing to do. There was a list of things to do."
Ms Ali-Khan says she knows in retrospect she should have refused, but it was not an option.
"Mr Galloway is not a man to whom you can say no to easily. He's very forceful - he doesn't ask you, he tells you: 'This is what I want. Sort it out.' I was a little bit overwhelmed by it all."
She said that from June to September 2012, she was "more or less in charge of his entire wedding".
"Booking the venue, booking the registrar, arranging the menu, sending out guest invites, booking accommodation for invites. It was more or less every single aspect of his wedding was overseen by me," she said.
Ironing shirts
Ms Ali-Khan says she was also asked to do chores including cooking, cleaning and laundry.
"I ironed his shirt when he went to Parliament on the first day. I also did laundry for his wife. I was asked to make her coffee - she had a special Indonesian brand of coffee so she taught me how to make this coffee for her every morning. I was instructed to make breakfast."
In April 2014, Ms Ali-Khan, of Keighley, West Yorkshire, was jailed for three months for contempt of court after failing to destroy "explicit" pictures of her lover and his estranged wife.
During the interview she was asked to respond to Mr Galloway's claim that she was sacked for conspiring with her partner, a former Met policeman who was convicted of misconduct in public office and of data offences, which she also pleaded guilty to in June 2014.
She replied: "This is nothing to do with my private life, it has nothing to do with me as a person but everything to do with him as an MP, as an elected member of parliament, which is what we need to concentrate on."
Mr Galloway, who represented the Respect party, lost his Bradford West seat in May's general election.
He has previously said that Ms Ali-Khan was living rent-free in his house, was friends with his wife-to-be and did chores because she offered.
In a statement, he said the allegations came "from a convicted criminal who has served a jail sentence for contempt of court".
He said: "Aisha Ali-Khan was dismissed by me after leaking confidential information both to the press and to her lover. She is pursuing a vendetta against me, after I provided witness evidence in a criminal case against her last year. The BBC is now shamefully giving oxygen to her untruthful allegations."
Watch Victoria Derbyshire on weekdays from 09:15-11:00 BST on BBC Two and BBC News Channel. Follow the programme on Facebook and Twitter, and find all our content online.