National strike at Tata Steel plants called off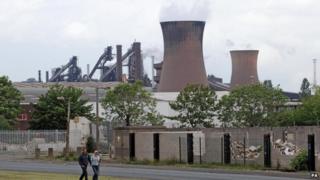 A one day strike at Tata Steel plants across the UK has been called off.
Members of four trade unions were due to walk out on Monday in a row over proposed changes to their final salary pension scheme.
Unions said the industrial action was suspended after Tata made a new pension offer during talks at the conciliation service Acas.
The unions are recommending the deal is accepted and it will be voted on by steel workers later this month.
Tata had initially proposed closing the company's final pension scheme which it said had a projected shortfall of over £2bn.
The move could have seen employees retiring at 65 instead of 60.
GMB national officer, Dave Hulse, said: "We always told Tata Steel that closing the scheme was unacceptable but it took the unity and resolve of trade union members to make them listen.
"Now we've got a deal that means the scheme is open, the importance of early retirement is recognised and the challenges faced by the scheme are addressed."
The company employs more than 17,000 people in its UK operation.
Tata has sites in Corby, Hartlepool, Rotherham, Scunthorpe, Teesside and York as well as plants in Port Talbot, Newport, Flintshire and Carmarthenshire.