Caffe Nero denies badger farm milk U-turn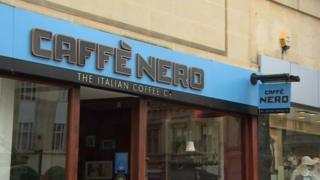 A coffee shop chain has denied it has reversed a decision to stop using milk from farms in the badger cull zone.
Caffe Nero said it would stop using milk from farms that were part of a pilot tackling badger numbers, after being targeted by anti-cull activists.
Earlier, Leader of the Commons Chris Grayling said what happened was "utterly unacceptable" and he was glad the firm had now changed its mind.
A Caffe Nero spokesman said there had been no change of policy.
Mr Grayling was responding to a question in the Commons from the Conservative MP for Bridgwater and West Somerset, Ian Liddell-Grainger.
Mr Grayling said: "It is not acceptable to my mind for companies to give into pressure from a very small number of activists in a way that can damage the livelihoods of people who may have in reality no connection at all to the issues that are being raised.
"What took place was utterly unacceptable and I'm glad Caffe Nero changed their minds, but I wish they hadn't taken this decision in the first place."
It follows a report in the Times that the company was preparing to reverse its decision following criticism from farmers and MPs.
However, Caffe Nero said it would continue to source its milk from outside the cull zone in order to protect its staff and customers.
Spokeswoman Kelly Sylvester, said: "We are at a loss as to why our stores have been the target of protesters when we are not part of the debate.
"In fact 98% of our milk supply came from outside the affected areas.
"In response to serious and credible threats against our team members, we decided that the welfare of our people and our customers came first and have taken a pragmatic decision on our milk sourcing policies."