Unusual home conversions across England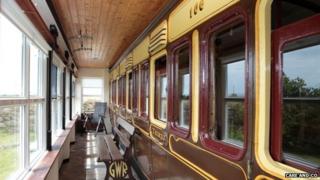 A "unique" bungalow has been constructed in Cornwall by building around a refurbished 19th Century railway carriage.
But this is not the only unlikely structure to be turned into an unusual home.
Here are a few other examples from across England.
And if you live in or know of any other odd abodes tell us about them on Facebook or email us.
Waiting for a buyer
This former waiting room at Cromford railway station in Derbyshire may look familiar to Oasis fans, as it was photographed for the artwork of the band's 1995 single Some Might Say.
Brian Cannon, who designed numerous Oasis sleeves, told the NME he was inspired by the song's lyrics, which feature the line "I've been standing at the station".
The Grade II listed building was derelict when photographed in 1995, as it had not been used since the 1960s.
It was bought in 2007, restored and turned into a cottage by owners Tim Collins and Ryan Phelps.
Mr Collins said: "In February 2011 Prince Charles paid a visit as he had heard about the building through his work with English Heritage and I took him on a tour."
It is now rented out as holiday accommodation.
A two-floored conversion
One couple whose romance began on an open-top tour bus 38 years ago have continued their love affair with double deckers - by turning three into homes.
John Bowden was driving the bus across Europe when he met Marleen Bowden-Schelvis, who is Dutch.
The couple settled in Bristol but could not afford a house, so they converted their first bus and lived on it in the Bristol Docks in the early 1980s.
They later moved into a house after their second child arrived, but bought another bus and used it as a holiday home. They bought a third bus in the early noughties and spent 13 years converting it into a holiday home.
A gap in the housing market
This house in Haringey, London, was built over a former driveway in 1996.
It is sandwiched between two average-sized terraced houses, and is believed to measure just 6 ft 11 inches (2.1m) wide.
It is so small that some people can touch the sides with both hands when they stretch their arms out.
But despite being narrow it has two bedrooms, a reception room, kitchen, bathroom and even a small roof terrace.
One underground flat, toilet
Architect Laura Jane Clark spent more than £60,000 converting an abandoned toilet in Crystal Palace, London, into her dream one-bedroom flat.
Despite being underground, the flat is flooded with natural light, which comes in through the glass tiles in the pavement.
"I love the originality of living in a toilet," she said.
Her living room used to be the main gents stalls and urinals and her bathroom was formerly the attendant's office.
She documented the conversion on a blog, and has since completely overhauled and redeveloped an 1890's tenement on Glasgow's Southside.
Public toilets in Cornwall with "huge potential" to become a "fantastic family or holiday home" sold at auction for £115,000 in March.
However, some expressed concerns at the loss of the facilities in the popular beauty spot.
A bit of a bomb-site
A control tower at a former RAF bombing range used during the Cold War was put up for auction in November.
Estate agents said it could be turned into a home - if buyers were not worried about the chance of unexploded bombs being nearby.
Built in about 1975, the tower has been empty since the closure of RAF Wainfleet in Lincolnshire in 2009.
It did not sell as it failed to reach the guide price.