Robert Jenrick MP calls for Emas break-up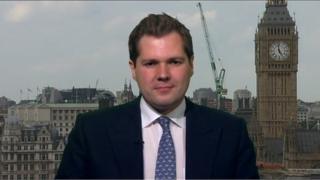 An ambulance service that has failed for a fifth year running to hit targets for its highest priority calls should be decentralised, an MP has said.
East Midlands Ambulance Service (Emas) missed its 75% targets for "Red 1" and "Red 2" calls in 2014-15, it has revealed.
Conservative MP for Newark Robert Jenrick said the service needed more money from central government.
Emas blamed record demand over winter for the delays.
Mr Jenrick said Emas, which covers Nottinghamshire, Derbyshire, Lincolnshire, Leicestershire and Northamptonshire, is "failing" and "not up to scratch".
'Giant region'
"The idea of regionalisation was to pool all the central functions so you could drive more money down to the front line," he said.
"But if you look at the results, almost every ambulance service in the country has declined after regionalisation."
The Conservative MP said Emas should "lobby the government for more money".
"This is a giant region with not a lot in common from Lincolnshire down to Northamptonshire. I think it does need more resourcing from the government."
However, he said Emas chief executive Sue Noyes had made improvements to the service, including bringing in new vehicles.
Meanwhile, volunteer first responders have denied they are "propping up" the service.
Responders from Lincolnshire Integrated Voluntary Emergency Service (Lives) are first on the scene for 25% of Lincolnshire's Red 1 calls, clinical director Dr Simon Topham said.
Red 1 calls involve life-threatening injuries, while Red 2 calls include serious breathing difficulties.
"I don't think it's fair to say we are propping it up - we contribute," Dr Topham said.
"I think we have a distinct advantage over Emas - our responders are volunteers in their own community.
"Emas have a difficult job in a county as rural as Lincolnshire."