Runaway mother Rebecca Minnock 'manipulated press'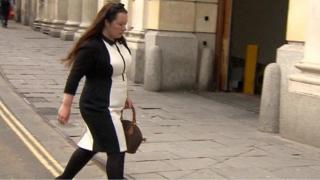 A mother who disappeared with her three-year-old son when a custody ruling went against her was "utterly irresponsible", a judge has said.
Rebecca Minnock and relatives tried to manipulate the press with a "publicity stunt", Judge Stephen Wildblood said.
But he said he would do what he could to ensure Ethan had "an effective relationship with both parents".
Ms Minnock, 35, handed herself in to police in Oxford on Friday, after more than two weeks in hiding with Ethan.
Mother and son disappeared from their home in Highbridge, Somerset, on 27 May - the day a judge ruled Ethan should live with his father.
'Invented allegations'
Judge Wildblood QC spoke in open court before he held a private hearing about Ethan's future.
He said: "Huge amounts of time, effort and money were spent on the case and it is simply unfair for a party to attempt to use the press in an attempt to deny another person justice.
"Not only is it absurd for anyone to try to 'play the press' in that way, because that inevitably backfires, but it is also an utterly irresponsible way to behave from the point of view of the welfare of a child."
He said that during the two-year custody battle between Ms Minnock and Ethan's father, Roger Williams, it had "been found that the mother positively invented allegations against the father on two occasions".
He added: "The father has not at any time embarked on anything like the publicity stunt in which the mother's family has engaged."
Ethan was reunited with his father on Friday evening.
Ms Minnock's mother Louise, 52, and Louise's partner Andrew Butt, 56, were jailed on Friday for contempt of court after admitting withholding information about her whereabouts.
Butt, who drove Ms Minnock and Ethan to Cheltenham on the day they disappeared, told the court last week: "The plan was to keep her away for as long as possible and to generate as much publicity as possible."
While in hiding with Ethan, Ms Minnock gave interviews by telephone to two national newspapers.
Judge Wildblood said he had to ensure there were no more attempts by Ms Minnock and her family to "manipulate public opinion".
"I may also have to look at what should be done about Rebecca Minnock's behaviour in breaching previous court orders," the judge added.
"I anticipate that there needs to be a short period of time in which people can take stock of what has happened and reflect on what they want to achieve."
Ms Minnock has been engaged in a two-year legal battle with Ethan's father over contact with their son. In February, a district judge found she had fabricated allegations against Mr Williams in order to "frustrate contact" between him and Ethan.
A social worker reported that Ethan was not "emotionally safe" with his mother. Ethan had been staying with his father four nights a week since February.