E3: why gamers love the annual LA event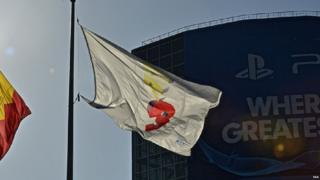 If you're into games, you'll get it.
If you're not - imagine Christmas, your birthday and a lottery win all happening at once and you'll have some idea of how excited people can get about E3.
In June every year, the biggest names in the games industry (and a lot of smaller ones) gather in Los Angeles for three very special days.
Here's what to expect at this year's event when it kicks off on Tuesday 16th June.
New games
It's time for the rumours, speculation and leaks to stop and the hard news to finally happen.
Games which have been talked about for months, sometimes years are shown off to crowds of journalists and gamers who lap up the hype like they're losing their minds.
Extended demos, in-game footage and 'first looks' at new titles are what the big press conferences at E3 are all about.
This year expect the likes of Halo 5, Fallout 4, Metal Gear Solid 5 and Mass Effect 4 to dominate.
Winners and losers
One of the industry's big guns always comes out on top.
In 2013 it was Sony who stole the show with an attractively priced, DRM-free PS4 which was "all about the games".
That year, Microsoft had to do several u-turns after its always-online requirement and restrictions on used games went down like a busy network on launch day.
This year the big clash is shaping up to be between the same two giants, but Sony has a lot to do to beat Microsoft's expected game announcements.
Surprises
If you remember the Sega Saturn it's probably for the wrong reasons, as the console was widely regarded as a flop.
But Sega dominated E3 in 1995 when, out of the blue, it launched its new machine several months early.
A big, big surprise seems less likely now with news so readily leaked, but there's always at least one announcement that catches people off guard.
Maybe Nintendo will show us their rumoured new console this year. But we doubt it.
There's also talk on gaming forums that there could be a return for some much loved franchises like Gears of War and Dishonoured.
Hands-on time
It might be 30+ degrees outside, but there are plenty of people who are happy to deprive themselves of natural light for several hours to wait in line to play a game.
Hands-on time with the latest titles not yet available to buy is a big draw at E3.
Getting a controller in your hands and experiencing something only a handful of people have played is a thrill that's hard to beat. In gaming terms, that is.
Our money's on the Bethesda stand and Xbox's Halo 5 area having the biggest queues at E3 in 2015.
Freebies
Finally, you can't travel all that way and not bag some swag.
T-shirts, promo copies, stuffed toys, stickers and anything else that's going are prized souvenirs from E3.
Play the game and you'll come home with enough to sort your mates' Christmas presents with plenty left over.
Keep that Mario mask for yourself though.
Follow @BBCNewsbeat on Twitter, BBCNewsbeat on Instagram, Radio1Newsbeat on YouTube and you can now follow BBC_Newsbeat on Snapchat