Labour leadership contest comes East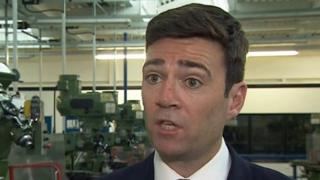 They needed to win Ipswich, Bedford and Waveney if they were to have had any chance of forming a government but they didn't. Now the Labour Party is selecting a new leader.
Whoever wins will have their work cut out to bring the Labour Party back in this region.
In 1997, when Tony Blair swept into Downing Street with a landslide majority, Labour won 28 seats in this region. In 2010 the party here was reduced to just two seats, both in Luton and in this year's election Labour only won two more.
Five candidates have entered Labour's leadership contest and the Shadow Health Secretary, Andy Burnham, brought his campaign to Essex.
He met with apprentices at the Procat College in Basildon and told them it was wrong that apprentices didn't qualify for student grants - he would like to see them paid the minimum wage.
He told me that Basildon was the reason why he came into politics in the first place.
"As a young man I remember watching the 1992 general election full of hope that we would get a Labour victory. I saw the result come in from Basildon, which was a Conservative win, and it was at that moment when I really resolved to get a Labour government.
"That's where I made my career choice, so Basildon does hold a special place in my heart. It was the start of my own political journey."
He said Labour needed to win people's trust on the economy first and foremost and explained why he thought Labour had lost the election this time.
"Many voters across the country have lost their emotional contact with Labour. They look at us and they no longer know what we're for and see people that they can't relate to."
He also met with party workers from across South Essex and told them it's important Labour finds a way to win in the East again.
With five candidates for leader, this was just one in a series of meetings across the region. Shadow Home Secretary, Yvette Cooper visited Peterborough on her campaign tour, where she heard from members how hard it will be to move on.
She believes that in areas like Peterborough, where Labour couldn't win, straight talking can be the key.
"It's about not being squeamish about talking about immigration," she said.
"It's got to be controlled and managed so that the system is fair. And there's no doubt about it, a lot of people across the country are concerned about the pace and impact of immigration."
In the east we have two of our four MPs backing the left wing candidate Jeremy Corbyn and another supporting Liz Kendall.
The fifth candidate is Mary Creagh, who has been MP for Wakefield since 2005.
It's clear Labour faces big challenges here so whoever wins the crown will have their job cut out to win back the east.