Sheffield and Cleethorpes train conductors go on strike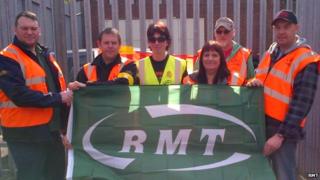 More than 40 train conductors on the Transpennine Express route between Sheffield and Cleethorpes have gone on strike over a sacked rail worker.
The dispute started when a colleague was dismissed after "a youth tried to surf a train" at Cleethorpes station.
Transpennine Express said the conductor did not force the train to stop and deal with the incident properly.
The RMT union said the conductor was concerned a sudden stop could cause injuries to people on the train.
The union said 41 members would be walking out for 24 hours every Sunday throughout June because the company refused "a perfectly reasonable request" to reinstate an avoidance of disputes meeting.
"Management [are] not prepared to take any account whatsoever of the extenuating circumstances and the honesty of the individual who now faces the loss of his livelihood", the RMT said.
In a statement, Nick Donovan, managing director of First TransPennine Express, said the worker was dismissed "following a full investigation and appropriate disciplinary process".
"Our position is that the conductor's actions were in clear and direct contravention to his training and also in breach of the Health and Safety at Work Act," he said.
Mr Donovan said the company intended to operate "all services between Sheffield and Cleethorpes as planned".
The RMT said a youth tried to "surf" a train leaving the platform. It was spotted by the conductor, who stopped the train before signalling the driver to depart.
But the youth made a second attempt to "surf" by holding on to the door frame and standing on the small step board, the union said.
The conductor allowed "the youth to jump back off" while the train was moving, instead of "pressing the red emergency stop button", in an attempt to prevent the youth from being thrown off balance, his union said.