Headley Court MoD rehab centre 'could stay open with private investment'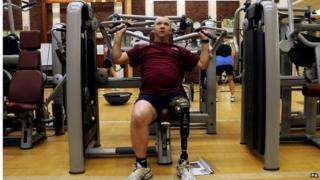 Private investors could help retain military rehab complex Headley Court as a neuro-rehabilitation centre when the Ministry of Defence leaves, a charity boss has said.
At least two companies are interested, said the chairman of Queen Elizabeth's Foundation for Disabled People (QEF).
Rob Douglas said it was hoped the Surrey centre could be made available to the public through the NHS.
The MoD is leaving Headley Court and moving to Leicestershire in 2018.
It announced last year it is to set up a new Defence and National Rehabilitation Centre at Stanford Hall.
NHS patients
Headley Court Defence Medical Rehabilitation Centre, near Leatherhead, treats about 20,000 injured servicemen and women a year.
"We would like to see this resource continue to operate and provide a service to those who need neuro-rehabilitation," said Mr Douglas.
"It would be used probably primarily by the NHS but possibly with other private hospitals and charities like the Queen Elizabeth Foundation."
He said two private companies interested in acquiring Headley Court attended a meeting last month organised by Leatherhead-based QEF.
The meeting included representatives from Surrey County Council, Mole Valley District Council and the trustees of the charity that owns the site.
David Preedy, chair of Headley Parish Council, said the future of Headley Court needed to be addressed rapidly.
"We need to get to the point where the staff can see there is a future so they don't leave," he said.
"Headley Court is a very big establishment and it needs a big catchment area of patients to make any solution viable.
"That is something that would require a lot of co-operation from health authorities and so on."