Road closures start between Pembury and Tonbridge as A21 widened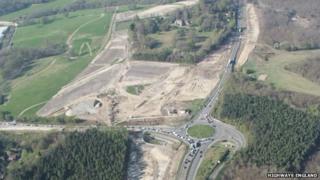 A series of overnight road closures is set to begin on a 2.5 mile stretch of single carriageway being widened in Kent.
The A21 will be closed from the A26 junction at Tonbridge to the A228/A264 junction at Pembury as the main dual carriageway construction work begins.
The first closure takes place from 20:00 BST on Sunday to 06:00 on Monday with traffic diversions in place.
Highways England said dates for further closures were yet to be confirmed.
Preliminary work on the route, a bottleneck on the main London to Hastings road, is nearing completion.
Four houses have been demolished as well as a barn, which is being preserved so it can be rebuilt.
Campaigners worked for years to get the £69m scheme near Tunbridge Wells approved but groups including The Woodland Trust objected to the destruction of 22 acres of ancient woodland.
Highways England said it had coppiced nine hectares of trees along the route to be relocated into nearby "receptor" areas which would eventually create 18 hectares of woodland.
A 40mph speed limit is to be introduced on the A21 during construction work, which is expected to be finished by December 2016.