Faversham's 1300 Magna Carta goes on display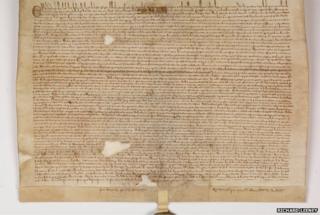 A copy of Magna Carta not seen in public for more than 700 years has gone on display in Kent.
Civic leaders in Faversham always knew the authority had a Magna Carta issued in 1300, but in 2011 they discovered it could be worth £20m.
It is thought seven 1300 editions survive. They were drawn up after King John first reached agreement with rebel barons in Runnymede in 1215.
Faversham's Magna Carta has gone on display at the town's Alexander Centre.
The exhibition will also tour Canterbury, Dover, Maidstone, Rochester and Sandwich - which discovered it had its own 1300 Magna Carta in February.
Sandra Matthews-Marsh, chief executive of Visit Kent, said Faversham's Magna Carta was one of Kent's and the country's most important treasures.
Interactive technology has been used in the exhibition to allow people to examine the document, investigate its clauses - and role play as barons at the negotiating table.