Isle of Wight's lack of Blue Flags criticised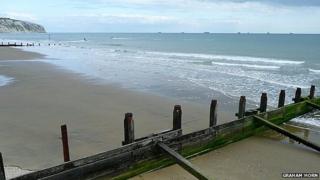 The Isle of Wight's decision not to apply for Blue Flag status for its beaches has been described as "ludicrous" by tourism businesses.
Sandown, Ventnor, Yaverland and Colwell are not on the latest list of beaches able to fly the flag having reached the international standard for cleanliness.
The council said it had not applied as it knew it would not meet the criteria.
The Isle of Wight Visitors Association insisted the status was important in marketing the island.
Earlier this year the council announced "changes to the maintenance and management regimes" as part of its budget review meant the beaches would no longer meet the Blue Flag criteria.
These included facilities such as marker buoys and emergency phones which the council previously provided.
It said parish and town councils could deliver such services and apply for Blue Flag status in future.
Martin Simpson of Isle of Wight Visitors Association, representing tourism businesses on the island, said the decision was "short-sighted and scandalous".
"Beaches are what the Isle of Wight is known for - it's one of our USPs and something we should be marketing, not cutting back on."
'Still gorgeous'
Sixty-one beaches in England are able to fly the flag having reached the international standard.
David Thornton of Visit Isle of Wight insisted visitor numbers would not be hit but admitted there was a "slight concern about perception".
"There's been no deterioration, our beaches are still as gorgeous and beautiful as they were last year.
"In the long term we need an innovative private-public sector solution to manage, clean and market our beaches."
Richard McElwaine of the Keep Britain Tidy charity said the application charge was £700 + VAT per beach.
"It's a very cheap piece of marketing in relation to the return you get. For visitors it gives an extra sense to what's available compared to anywhere else," he said.