Former MEP Ashley Mote fraud case jury retires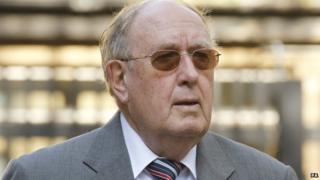 The jury at the trial of a former MEP accused of claiming almost £500,000 in false European Parliament expenses has retired to consider its verdict.
Ashley Mote, 79, is on trial at Southwark Crown Court for allegedly using fraudulent claims to pay people he says were "whistleblowers".
He sat as an independent MEP for South East England from 2004-2009 after being expelled from UKIP.
Mr Mote, from Binsted, Hampshire, denies 11 charges, including fraud.
The offences allegedly took place between November 2004 and July 2010.
He denies four counts of obtaining a money transfer by deception, three of false accounting, two of fraud, and one each of acquiring criminal property and concealing criminal property.
While an MEP, Mr Mote claimed £750,000 in Parliamentary Assistance Allowance.
He was elected as a UKIP MEP in 2004 but was expelled from the party before he took up his seat, as he was being prosecuted by the Department for Work and Pensions for benefit fraud.
He continued as an independent MEP until 2009.