Devon and Cornwall Police get 30,000 domestic abuse calls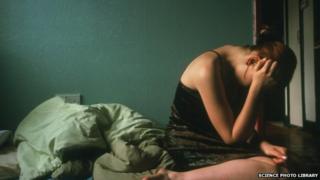 Police received more than 80 reports of domestic abuse in Devon and Cornwall every day last year, it has emerged.
There was a 13% rise in cases in the last four years according to a Freedom of Information answer.
Of the total 30,103 reported cases last year, 1,453 ended in a conviction.
Devon and Cornwall Police said reducing domestic abuse was a priority and more officers were specialising in dealing with the problem.
According to the latest report from the Office for National Statistics with 8.5% of women and 4.5% of men having experienced domestic abuse in the last year, equivalent to an estimated 1.4m female victims and 700,000 male victims.
Victims 'turned away'
There was a decline in domestic abuse between 2004 and 2008 but the current figure (6.5% for men and women combined) has been fairly stable since 2008.
Women living in households in the 20% most deprived areas of England were more likely to be victims of domestic abuse (9.9%) than women in the 20% least deprived areas (6.1%).
Det Supt Paul Northcott, head of public protection at Devon and Cornwall Police, said: "It's a really complex area of policing. Many victims who come forward to us don't want to take it through to conviction.
"Convictions alone are just one aspect of it and often we can caution offenders or deal with them through other outcomes."
According to the charity Women's Aid, nearly a third of more than 20,000 referrals to refuges in 2013/14 were turned away because of lack of space.
Sue Wallis, chief executive of the support group North Devon Against Domestic Abuse, said: "The rise in reports of domestic abuse shows people are more confident about coming forward, which is a good thing, but services for victims are just not there."
She said domestic abuse was caused by one partner wanting to having control over the victim.
Poverty, alcohol and drugs were all contributory factors to domestic abuse.