Woodcote bin lorry fatal crash driver jailed for five years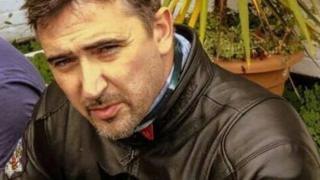 A bin lorry driver who caused a fatal crash when he was speeding while using his mobile phone has been jailed for five years.
Adam Lipowski, 42, of Walmer Close, Tilehurst, was on the A4074 in Woodcote, Oxfordshire in 2013 when the collision occurred.
He was found guilty on 27 March at Oxford Crown Court of causing death by dangerous driving.
Andy Evans, from Thatcham, Berkshire, died in the crash.
Lipowski was driving a 15-tonne Mercedes refuse truck on 11 September 2013 when he collided with a Subaru car in which Mr Evans was a front seat passenger.
The truck pushed the Subaru across the road into the path of a Ford Focus.
Lipowski and the drivers of both cars were taken to hospital following the collision.
At the sentencing hearing earlier, Lipowski was also disqualified from driving for five years.
Survivor Michael Jennings, who also survived the Hungerford massacre of 1987, was driving the car in which Mr Evans was killed.
He said life since had been "difficult" and added: "I'm not the man I was."
"My hands were on the wheel when this crash happened and Andy lost his life."
Mr Jennings said he remembered picking Mr Evans up in the car, but "nothing at all" from the rest of the day.