Lincoln mirrors national election result once again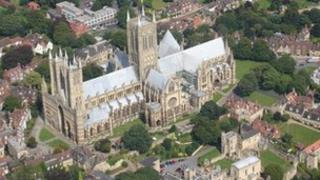 Voters in Lincoln have once again chosen an MP from the party that won the most seats in a general election.
Conservative Karl McCartney secured a second term as the city's MP after defeating his Labour rival Lucy Rigby by 1,443 votes.
The so-called 'bellwether' constituency has mirrored the national swing in British general elections since 1974.
While most seats in Lincolnshire have remained solidly Tory over the decades, Lincoln has regularly changed hands between Labour and the Conservatives.
Margaret Beckett became Labour MP for Lincoln in the October election of 1974.
Then known as Margaret Jackson, the women who would later become Labour's deputy leader defeated former Labour MP Dick Taverne.
Taverne had resigned from the Labour Party and held the seat as a Democratic Labour candidate in the February election of 1974.
Margaret Jackson was the Labour MP for Lincoln for the next five years until the political tide turned in favour of the Tories.
Conservative Kenneth Carlisle won Lincoln in 1979 and held the seat for 18 years, throughout the period of Tory rule under Margaret Thatcher and John Major.
Labour landslide
Then came Tony Blair's landslide of 1997 and Lincoln turned from blue to red as Gillian Merron was elected on a large swing to Labour.
Gillian Merron served three terms as Lincoln's MP and became minister of state in the Department of Health under Gordon Brown.
While the Conservatives did not secure an overall majority in the 2010 general election, David Cameron's party regained Lincoln as the swingometer once again favoured the Tories.
Lincoln is believed to be the oldest constituency in the United Kingdom, having been established in 1265.
Whatever happens in future elections, the political number crunchers will continue to keep a close eye on Lincoln for clues on the identity of the next occupant of 10 Downing Street.