Pigwig the pig rescued from swimming pool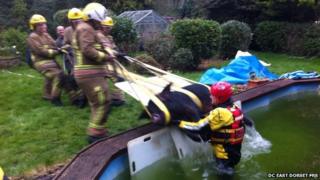 A pig that fell into a swimming pool in Dorset has had his bacon saved by firefighters.
Dorset Fire and Rescue sprang into action to rescue Pigwig after he became trapped in the pool at Avon Castle Drive, Ashley Heath, earlier.
District commander Andy Cole said its specialist animal rescue squad was also dispatched to deal with the unusual rescue operation.
Firefighters used rescue boards, strops and lines to tug the stranded pig out.
Crews from Ferndown and Poole were the first on the scene of the drama after receiving a call at 16:50 BST.
They were later joined by a crew from Hampshire Fire and Rescue service in Ringwood.
Pigwig was hauled from the swimming pool at about 17:30.