Ed Miliband: Rotherham girls 'dreadfully let down'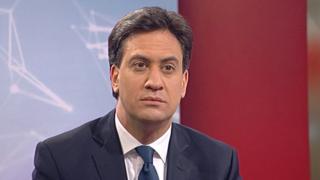 Ed Miliband has admitted "young girls were dreadfully let down" by Labour in Rotherham.
The leader of the party said: "We got it wrong and I'm sorry for the mistakes Labour made."
He made the comments as he answered questions from four voters from Yorkshire during an interview on BBC Look North in Leeds.
Mr Miliband is defending the Doncaster North seat he has represented since 2005.
The Jay Report, found the abuse of 1,400 children in Rotherham over a 16-year period up to 2013 was ignored by agencies.
Anjum Abbasi, a Rotherham resident, asked Labour's leader how he would win the "hearts and minds of my community".
"We've got to bring the perpetrators of the abuse to justice if we possibly can," Mr Miliband said.
He previously issued an apology over events in the South Yorkshire town on the BBC's Sunday Politics programme in February.
'Ridiculous' mansion tax
Mr Miliband also told Mr Abbasi he had changed Labour's position on immigration and it was not "prejudice to worry about immigration, people's concerns are real".
Clive Phillips, a businessman, asked about help for business and about Labour's plans for a "ridiculous" mansion tax on properties worth more than £2m.
Mr Miliband said: "Not everybody is going to like it but we don't want to raise taxes on ordinary families.
"It's a fair choice to make, those with the broadest shoulders should bear the greatest burden."
He agreed the UK economy was growing but said the recovery had not "reached most people".
Mr Miliband also answered questions on the cost of childcare and student debt during the encounter.
He was speaking on BBC Look North as part of a series of interviews with party leaders.