London Bridge rail chaos 'tackled with immediate changes'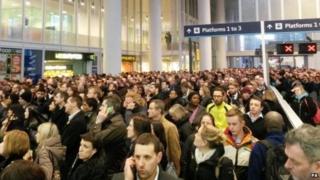 More staff, an improved timetable and better delay warnings for passengers have been promised by Network Rail to tackle London Bridge station chaos.
Rail minister Claire Perry said changes would take place immediately, following talks with MPs.
But the Rail, Maritime and Transport union (RMT) called the plans "PR stunts and sticking plaster solutions".
Disruption to trains and overcrowding have been ongoing since the £6.5bn Thameslink rebuilding programme began.
'Still being ignored'
Ms Perry said it was right to invest in Thameslink but the disruption for passengers was "too great".
She said: "What you have to do in that process is make sure people who are using that station every day to get to work, to get home... actually have a reliable service."
She said compensation for passengers was also being looked at.
But RMT General Secretary Mick Cash said it was just a PR stunt and from the beginning his representatives had identified poorly-installed track and signalling layout.
He said: "The catalogue of faults identified by our reps is breath-taking and... shows that the continuing chaos and overcrowding at London Bridge was entirely predictable.
"Even though RMT blew the whistle on this right from the off at no point since the pictures of the dangerous situation emerged have our reps and our members been asked for their views."
Offering an apology, Mr Hufton, Network Rail's managing director of network operations, said passengers had been tolerant but understandably had lost their patience with the "poor service".
He said: "The measures we are putting in place, in collaboration with our train operators, will improve both train service provision as well as station management."
MPs who met Ms Perry and Transport Secretary Patrick Mcloughlin on Wednesday discussed the dangerous overcrowding and said it was only a matter of time before someone was seriously injured.