Oxford child abuse report's key findings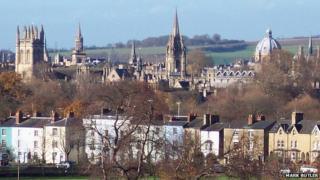 Police and social services made "many errors" and failed to stop the sexual abuse of young girls in Oxfordshire, a serious case review has found.
Up to 370 girls may have been the victims of child sexual exploitation (CSE) across the county over the past 15 years.
It comes after a gang of men were jailed in 2013 for abusing six girls in Oxford between 2004 and 2012.
Here are the key findings of the report by the Oxfordshire Safeguarding Children Board (OSCB).
---
'Many errors'
The report found no evidence of wilful professional neglect or misconduct by police or social services but said there a "worrying lack of curiosity" about what was happening to the girls.
It said the issue of child sexual exploitation was not widely understood and officials failed to notice the signs of the abuse over a number of years.
Some of the girls were abused using objects such as knives and baseball bats while others were bitten, scratched, beaten or burnt.
The report said much of the extreme abuse was not escalated to senior managers but should have been.
In response to the question, "Could CSE have been identified or prevented earlier?" report author, Dr Alan Bedford, said: "The simple answer is yes."
Professional work was not good enough and the failure to recognise the signs of CSE, and the fact that cases were seen in isolation, meant it continued for longer than could have been the case.
---
'Snide remarks'
The report revealed that a view had developed among staff that victims, who were often seen to be from difficult families, were bringing problems on themselves.
They were described as "precocious" and "very difficult girls making bad choices", who had decided to adopt a certain lifestyle and were exaggerating their claims.
As a result, the girls were dismissive and hostile to staff because they felt like they were being criticised. Staff in turn allegedly treated victims without common courtesies and subjected them to "snide remarks".
One girl said social services "washed their hands" of her, telling her her behaviour was "her choice".
Another recounted how she arrived at a police station at in the early hours of the morning, "blood all over me, soaked through my trousers".
She said: "They dismissed it as me being naughty, a nuisance. I was bruised and bloody."
The language used by professionals indicated they saw the girls as the cause of their extreme behaviour instead of as victims and they received much less sympathy as a result, the report said.
"The child victims and their families feel very let down," wrote Dr Bedford. "Their accounts of how they perceived professional work are disturbing and chastening."
---
The issue of consent
Despite the ages of the victims, a tolerance to young teenagers having sex with adults appears to have formed among professionals.
This was in part due to a lack of understanding around consent laws and an acceptance that nationally, children are being sexualised at a young age and can acquire contraception long before they are legally able to have sex.
This confusion, combined with judgements being made about the victims and their families, detracted from what was being done to the girls, the report said.
"The reluctance in many places, both political and professional, to have any firm statements about something being 'wrong', creates an environment where it is easier for children to be exploited," Dr Bedford wrote.
"[But] this is an issue reaching way beyond Oxfordshire and requires a national debate."
---
Organisational failures
Maggie Blyth, chairman of the OSCB, said there were "systemic failings" and "unacceptable delays" in tackling the issue of CSE between 2005 and 2010, with a catalogue of organisational weaknesses preventing the true picture being seen.
Insufficient use was made of child protection processes, minutes of multi-agency meetings were poor, the recording of crimes was inconsistent and planning and information sharing was weak,
There was a window within which a number opportunities to recognise what was happening were lost, the report said.
"Some organisations and some staff should have acted with more sensitivity, rigour, imagination or indeed common sense," wrote Dr Bedford. "And the collective agency work around safeguarding before 2011 should have been much stronger."
But he added, it was important to put the evidence in context as much of the abuse took place when there was little or no knowledge of CSE nationally.
"It is only in hindsight that the full picture is obvious," he wrote.