Highways Agency to identify pets and contact owners after road deaths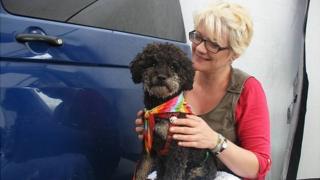 Pets killed on roads will have to be collected, identified and their owners notified by the Highways Agency, the Transport Minister John Hayes said.
He made the announcement after a parliamentary debate sparked by more than 122,000 people signing an e-petition calling for Harvey's Law.
Jude Devine, of Sheffield, inspired the campaign after being told her poodle Harvey had died - four months after his body was found on the M62.
New legislation was not promised.
As part of Treasury austerity measures, mandatory scanning of canine traffic victims for electronic tags and other identifiers was being phased out.
Mr Hayes said it was "absolutely essential" that every possible measure was taken to identify domestic animals killed in road accidents and their owners contacted.
'Identification taken seriously'
He told MPs: "I have therefore asked the Highways Agency to ensure that indeed they do collect and identify every animal that is killed and contact the owners by whatever practicable means.
"I have told the Highways Agency that is what I expect. It will be a requirement and that is what will happen.
"This government does take this extremely seriously."
Ms Devine was devastated by the long wait for news about Harvey, who went missing in late 2013 while she was visiting friends in Liverpool.
The dog's body was actually found just 20 minutes after he vanished.
Harvey's Law
The petition debated in Parliament called for:
Compulsory microchip scanning of all domestic animals retrieved from the highways
Log reports filed and circulated to both police and dog wardens
Photographs of pets' remains to be held with the log report to be used for identification purposes
A message was eventually sent to her Facebook appeal page by the patrol officer who had found Harvey.
The officer said she scanned Harvey, but as it was dark she could not find the microchip and collar tag he wore.
Nina Blackburn, a friend of Ms Devine's, started the campaign after helping with the search.
Mr Hayes will be writing to Transport for London and local highways authorities across the country to draw attention to the government's position, because the majority of accidents happen on smaller roads.
Halton Labour MP Derek Twigg, who campaigned for mandatory scanning to be brought back, said it was a "massive step forward".
He said the government would need to keep a "watchful eye" to ensure the rules are followed, otherwise legislation could be needed.
Ms Blackburn, 46, of Halifax, West Yorkshire, said: "Harvey's owners were devastated. Have you ever seen a grown adult break down and sob? It's something that really affects people."
Earlier a Highways Agency spokesman said: "Clearly it is very distressing when a dog dies on the road and we will always attempt to reunite a dog with its owner where possible.
"We are currently reviewing our approach to scanning as we want to ensure greater consistency."